On the outside, this 504 Coupé seems to have the same elegant appearance as other Coupés, but it soon becomes apparent that we are dealing with a fairly rare version. This exotic is equipped with a V6 injection engine. It is also one of the last models, recognizable by the steel bumpers painted in the color of the body. The fact that this is a truly unique model is only visible through the libretto di circolazione, the registration certificate. Only on that document are the special details of this Coupé mentioned. Only one copy of this 504 Coupé C32 has been built. The chassis number is 3,429,240 and the first admission was on July 24, 1980. The registration number, issued in the Piedmontese capital Turin, is in the name of Pininfarina S.p.A.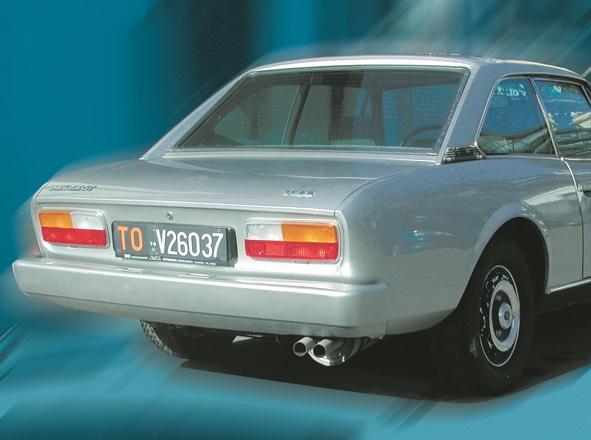 What makes this Coupé unique is the fact that it is a completely armored version. In the early 1980s, terrorism was a concern in Italian society. Major industrialists were at risk of being attacked or even kidnapped. That is why Pininfarina decided to have this Peugeot armored and the car was probably used for management purposes in the first years. The armor is effective, strong and of a high standard, but the features are extremely discreet. In 1989, with only 6,750 kilometers on the odometer, the 504 Coupé Blindata changed hands and has since been part of the collection of an Italian Peugeot dealer.
In detail, the reinforcements on the body of the car stand out. The unladen weight of the car thus increases from 1615 kilos to 1870 kilos. The weight gain also allows for a homologation of three instead of four people. On the outside, the (not very attractive) roof antenna, the electric rear-view mirrors from Ferrari and the rims with special tires are striking. The tires cannot be punctured by bullets or projectiles and are size 195/65 HR 375F). The special security glass comes from Saint Gobain and has a thickness of no less than 2 centimeters. Due to the thickness of the glass, the windows are mounted in special grooves. To prevent the car from being opened from the outside, this 504 Coupé has special safe locks. Thick pins lock the doors even more in the carriage. Finally, the special Coupé has air conditioning with filters, a microphone with external sound system, an alarm siren and a fire prevention system for the fuel tank and fuel supply.
The heavy-duty coupé is powered by a powerful yet discreet V6 petrol engine (PRV block) with 145 hp and an injection system. This power source is linked to an automatic gearbox, which is special, as the V6 engine is always linked to a manual gearbox in the series models of the 504 Coupé V6.